Volunteer Princess Cruises
---
956 Volunteer Landing Lane • Knoxville TN 37915 • (865) 541-4556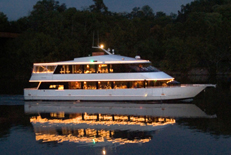 The Volunteer Princess is a 100 foot luxury dinner cruise yacht with a capacity of 149 passengers. Both decks are climate controlled for year-round comfort and are meticulously decorated creating a luxurious and elegant intimate atmosphere. Available for private charter, daily public cruises, and specialty cruises. Serving brunch, lunch, or dinner.

www.volunteerprincess.com

Take the finest gourmet food and service, place it on the finest luxury yacht in the heart of Downtown Knoxville, and you'll begin to understand the magic of Volunteer Princess Cruises.

Whether you are searching for something a little different for your Wedding, Corporate Event or Special Occasion, a meticulously planned event is certain to make a memorable experience that cannot be matched by any Banquet Facility. The Event Planners at Volunteer Princess Cruises are sure to make your dream become a reality, as the Only Thing We Overlook is the Water!

The 2007, 96' Luxury Yacht the Volunteer Princess, is climate controlled on all decks and is United States Coast Guard certified for up to 149 guests. We are available for Weddings, Corporate Events, Special Occasions, as well as Public Cruises. Charter the entire yacht, reserve a deck privately for your group, arrange for a section of the ship, or enjoy a romantic dinner for two at your private table.

Public cruises are great for locals of Knoxville or neighboring areas in Tennessee who want to try something new and get out on the water for a unique experience! Bring your out of town guests and show them Knoxville like they've never seen before!

Cuisine: American
Serve: Brunch, Lunch, Dinner
Hours: Call for departure times
Location: Knoxville Waterfront
Map & Directions

Features:
Full Bar
Wine List
Private Dining
Semi Private Dining
Kids Menu
Senior Meals
Lunch Specials
Gift Cards
Catering
Reservations
Wheelchair Access